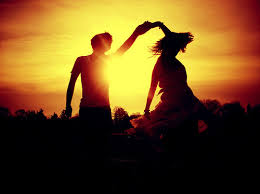 Who wants to be better yesterday?
Raise your hand…
We all do!  It's in our nature.  Goal setting and expectation management is important in your dancing.  It's rare to enter anything without expectations, but it's important to evaluate whether the belief systems of where you should be at are hurting or helping you accelerate towards that big goal.  Here are three tips to help newer dancers, and remind veteran dancers as well, how to enjoy and build on your dancing programs.
1. Position Yourself for the Win
2.Give Credit Where Credits Due
3.Go Big, Go Active
Let's take a deeper look…
1) Position Yourself for the Win: In my first hot yoga class, I positioned myself at the back left corner of the room to be safe. I was new, nervous and hoped no one would see me.  At the time I didn't realize that yoga turns in every direction, and for ½ the class I could see no one.  I was leading the group!
Dancing uses rotation. It may feel safe to position yourself in the back corners of the room, but the actual "safe zone" is in the middle closer to the front.  Plus, you'll be able to see what the teacher is doing!
2) Give Credit Where Credits Due: We all want to feel confident and natural when we dance, and a lot of us when we're learning something new only define success as when we obtain this "natural" stage. You're correct in understanding that this is the ultimate goal, but keep in mind that this is only the final stage of your learning curve (stage 4). The problem with this expectation is that during the first three stages – initial, awkward, conscious – you still won't feel natural! However, those stages leading up to that natural feeling are a big deal, have micro successes of their own, and should be celebrated!
Let's imagine your friend started going to the gym with a goal of lifting 50 pounds. When they first came in they could lift 10 pounds, and now they've worked their way up to 25; their form is improving, muscles are building, but they still can't lift the 50 pounds.
An utter failure, right?
Of course not!   We would never reason that way as an observer.  We would congratulate them on the 15 pounds they've built up to, and encourage them to keep working towards that "magic 50".  The same goes for your dancing – natural is the goal, but all the steps leading up to it should be celebrated and acknowledged.
3) Go Big, Go Active: Initially, as you're building up confidence in your dancing, it can be easy to shrink your body language and hesitate to take a step. However, this is going to make your life more difficult! Dancing requires continuous active movement. So by hesitating in order to be safe and make "the right move", you're actually losing the opportunity to do so.
You may be thinking – "Well, what if I do it wrong?".  Of course, you will, sometimes! Mistakes are an essential part of learning. So relax in the fact that you will make errors (who doesn't?), but you will learn faster if you take your space on the floor, and just go for it!  This is a double whammy because you will instill confidence and create a more natural feeling sooner! (Point #2)
I hope you've walked away with some fresh ideas on how to increase your productivity in dancing.  I'd love to know which problem you identify with the most, and which idea you're most excited to try out!

Flirting with the idea of dance lessons? Try our free Dancing in the Kitchen tutorial from the comfort of your own home!