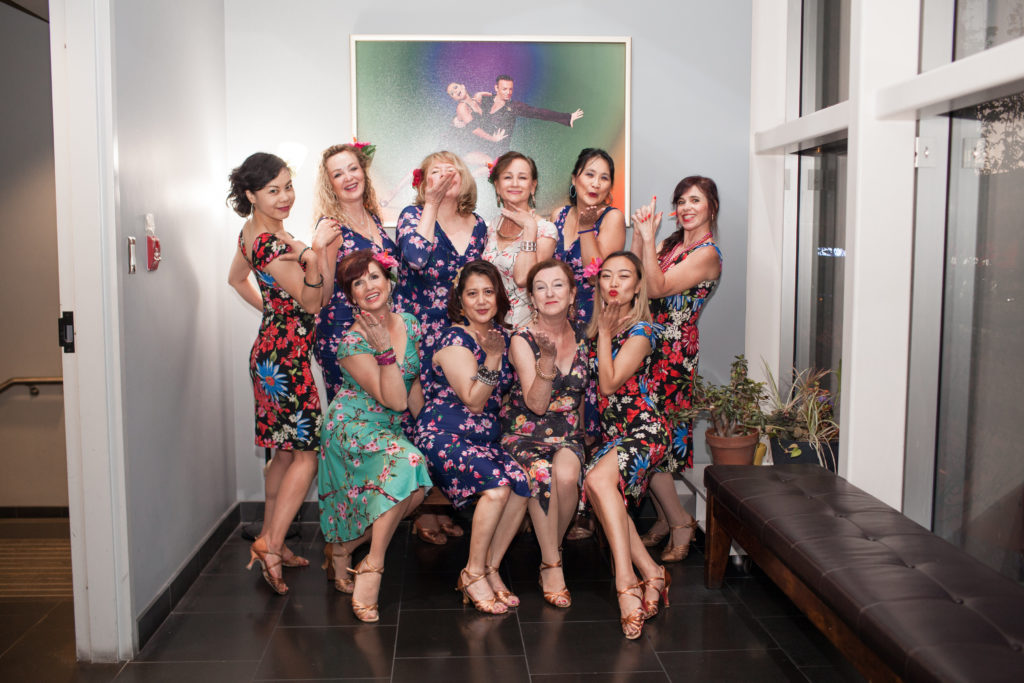 So you're thinking about joining the Women's Dance Team?
First off congratulations!  It's going to be a SUPER fun time in your life.  It will push your comfort zone – in the best way – and make you shine!
Before I get ahead of myself, I can imagine between the bouts of nerves and excitement, you've got some questions before you take that next step.
I hear you, and I've got answers!
Below, I've tackled the questions that I get asked the most, to help you decide if this is the right time for you to join the team.
  Let's jump in!
1) I'm newer to dancing. Will I be able to keep up with the team?
Great question! Most of the Women on the team are taking ballroom dance lessons as well as participating in the formation. It is a HUGE help because it dives deeper into the fundamentals of movement, (if you are interested in this, you can contact us for a complimentary lesson!).
In addition, here are a few suggestions that will help you grow quicker!
 Essentials: Every second month we do a movement or performance-based series called Essentials, that helps get you in the right shape for the routine. It moves at a slower, and deeper pace.
Private Lessons: Many of the Women like to get the most out of the choreography and take private lessons for the routine on the side. This is a big help when you want to learn individually how to move and look better.
Make friends: The Ladies of the team are AWESOME, and they'll often practice together which is a big, big help!
2) Stage fright, my struggle is real! Any tips?
Yes, the Women's Dance Team does perform, but by the time we get to that stage, you will have had the routine drilled in, and drilled in, annnnnd drilled in (just ask them!).
Plus, you will also have opportunities to take performance workshops, and dance in front of one another many times; which may make you giggle in the beginning, but will help you kick those nerves to the curb.
3) I've got a bad memory, I'm worried I'll forget the choreography?
Back to point #2 – it will be drilled in!
I want your mind to remember, but more importantly, I want your body to remember!
Listen, people forget sometimes, but the skills we teach will help you to jump right back in if that were to happen.
4) What can I expect over the next 6 months?
Good one! The first 6-8 classes you're going to learning a LOT of choreography.  We dive into this right away, so your memory starts happening quickly. You may feel a tiny bit overwhelmed, but the feeling will pass. As well, you'll get weekly video recaps to practice at home too.
After that, we take the next few months to work on movement, styling, and performance… my absolute faves!
Then at the end, we get all dolled up, and it's lights, camera, action!
What you can also expect, is a workout, lots of laughs, and incredible women that you're going to make friends with.  Plus, an ultra fun wind up brunch of mimosas and girl time!
5) Should I do it?
That last time I asked our team what they would say to someone thinking about joining the formation they said:
"Just do it, don't think about it! Go for it!"
I would say come to our next information session or reach out to me personally, and we can discuss wheter it's a good fit for you at this point in your dancing.
Likely, the answer will be YES!
Hope to see you on the dance floor!