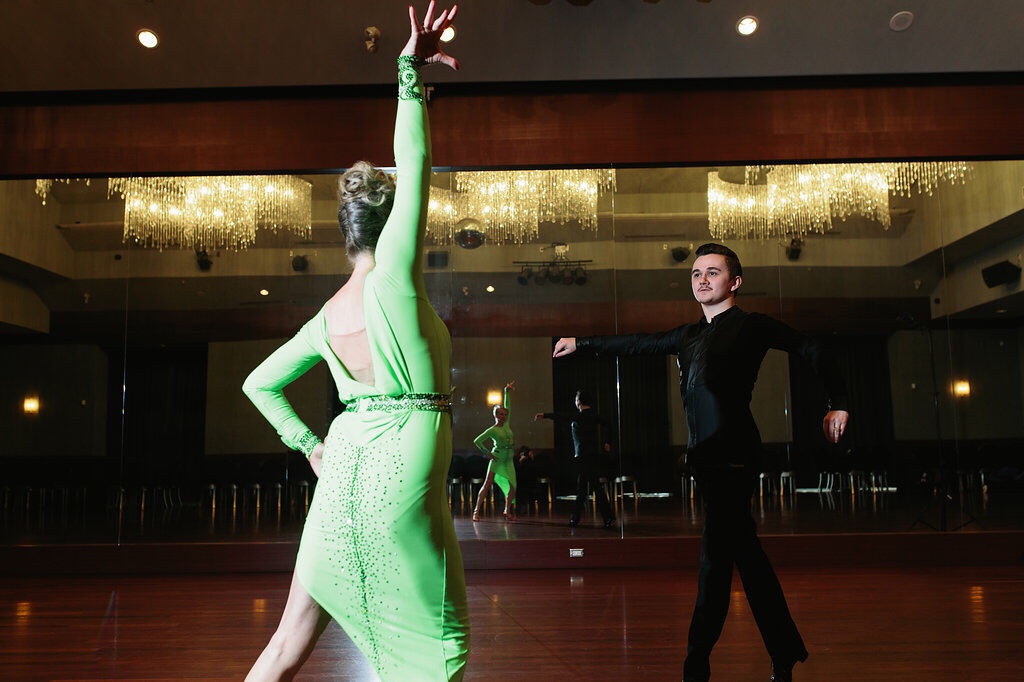 Have you ever imagined what it would be like to compete?Maybe you've watched dancing with the stars and wondered if you could ever do that…Well my friend, I'm here to tell you it's possible!Competition is often an "illusive" topic. Today, I wanted to pull back the veil, dispel the myths, and explain what competition really is. My hope is that it will provide you with some insight to see if competition might be right for you!Below we're going to explore who is right for competion, why on earth you'd want to compete, and once you do how you can become successful at it.
Who is competition for?
The Myth: Olympic athletes, people who want a career in dancing, or people who've been dancing their whole life.
The Reality: Competition is for anyone who wants to get more out of their dancing. When you compete, you are entered in your own level, and age category. Levels start from "newcomer" (6 months and under), and go all the way up to professional.
The Myth: Competition is for people who have a partner.
The Reality: There are a few different paths to competition. You can compete in Am-Am, which means a student who competes with another student; or you can compete in Pro-Am, which means a student who is competing with their instructor.
Now one big think to consider is that most of our students who do Am-Am, also do Pro-Am…Wondering why?
Well there are a few reasons this happens. Number 1, sometimes you have different desires. One partner likes the smoothness of the Waltz, and the other loves to boogie down with the Cha Cha. By competing with an instructor, everyone's desires get met.
One other benefit of this is not all partners have the same competition desires or drive, and that is OK! By competing with an instructor, this takes the pressure off of putting the pressure on one other.
The second reason is, when you dance with an instructor your personal dancing grows exponentially. It's like playing tennis with a pro, versus rallying back and forth with someone at your same level. It will cause you to up your game faster. Also, it provides you with a better skill set to dance with your partner.
The Myth: Competition is only for extroverts.
The Reality: Some of the best performers I know are introverts. Not only is competition an outlet for them to express, but they realize it's a learned skill.
Some people are naturally more comfortable in the beginning, but once you understand performance is more of a science, then you really have the opportunity to rise.
What are the benefits of competition?
Oh boy there are plenty!
From the pride you feel from accomplishing a BIG goal, to the confidence you get from being able to put yourself out there.
The social circle you build of like-minded friends, who just "get" this dancing thing.
Oh, and can we talk about the thrill of being on the dance floor for a moment?
Plus, I've also heard some people don't mind the travel opportunities for competition (Hawaii anyone?)
And yes – some people do it for the pure joy of dancing…
What gets you results in competition?
Success can be measured multiple ways, but the most successful dancers I know, all do one thing:
Consistent, effective effort and planning!
One of my closest friends and I are Foosball enthusiasts… to say the least. We play as a team, and we LOVE a good game. Whenever we would play opponents who switched their initial (successful) positions, we would look at each other and say "Rattled!".
Rattled is when you take yourself off course once you start to feel a little resistance – could range from an unfavourable result, being physically tired, not wanting to push past your comfort zone – so when you're rattled you do the equivalent of jumping ship, whether it be changing partners, switching choreography, or aborting your plan. It's like you're grasping at straws against your better judgement, to get past that initial muck; unfortunately, it often leads to more muck.
Consistent, effective effort and planning!
So now over to you – What do you think about competition? What has held you back in the past? And has this article given you some new insights or encouragement?
As always, I'd love to hear from you in the comments below.