Ballroom dance lessons that are classy and fun.
Foxtrot. Waltz. Rumba. Tango. Samba. Mambo. Cha Cha. Swing.
If you've ever wanted to give them a whirl, you're in the right spot!
Go from "two left feet" to a confident dancer who can find the right moves for any piece of music.
(Oh, and we hope you'll join us for your first class soon—it's on us!)
Explore our Programs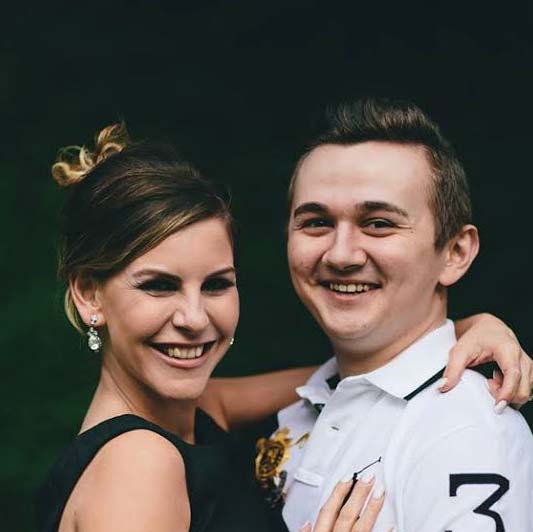 We've all seen them: the ballroom dance shows make it look so effortless, but the costumes and fancy footwork can convince you that it's not the hobby for you…
But what if it was?
We're Sarah & Vlad Bohdanov and we're passionate about welcoming anyone who wants to learn to dance—and we've got the award-winning experience and know-how to teach you and take care of your needs. Our classy, quality, and fun dance lessons await you… and we can't wait to start toe-tapping with you!
"Sarah and Vlad are the real Ballroom deal! Between the two of them, their years of ballroom dancing experience, knowledge of technique and performance, passion for dance, and their commitment to students, is second to none… I cannot believe how much we have improved in our dancing, how much better we feel, not only in our bodies, but in our minds! Do yourself a favor, and check them out."
Susan B.
"Sarah and Vlad are passionate about what they do, they strive for excellence and they really care about their students. I personally think VS Dance Club is the best place for Vancouver dance lessons."
Josh K.
"Vlad and Sarah are the ultimate dance teachers. They start where you are at and will get you dancing at a level you never dreamed possible. You can't lose with Vlad and Sarah-you can only win."
James S.
"Sarah and Vlad are amazing at what they do! They are 100% committed to the success of their students. They are fun, loving and full of life and experience! I would recommend them to anyone who wants to learn or excel in dance socially or competitively!"
Ninas L.
Blown away by how welcoming and fun Vlad and Sarah made our dance lessons! Knowing we had no dance experience and worried for our First Dance (at our wedding), my fiance and I decided to meet Vlad and Sarah for an initial consultation. We were a bit nervous but wanted something memorable and special for our big day. It was almost a right of passage as my fiance and I learned who is leading, how to communicate and how to "carry-on" and recover when we got slightly off course (timing). It was a metaphor for married life and we both loved every minute of it. I highly recommend Sarah and Vlad. Such thoughtful and special people. Thank you for all of the memories and training.
Emily B
Dancers in Action
Wondering what lessons are like? Click to watch our dancers in class and competition!
Watch Video
Our Programs
We offer 3 signature programs for you to start learning. Our classes and lessons welcome dancers of all experience levels, from beginner to advanced!
See Programs
Your First Class
We can't wait to meet you in studio for your first complimentary class, but feel free to reach out to us with any questions you may have!
Contact Us