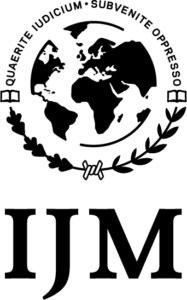 It's officially time to begin the celebration of the Holidays! So, we are taking a brief pause from our usual topics, to share with you our way of giving back this Holiday Season. A few years ago Vlad and I had the opportunity to hear a speaker from "International Justice Mission" (IJM), and after hearing the work they were doing, and the impact they were making, we knew we wanted to partner with them this year.
The Problem:
4 billion people live without the protection of the law. That means that the Public Justice Systems – the Police, Courts, and Laws – are so broken, corrupt and dysfunctional, that there is nothing to shield them from the violence.
So Who are They?
International Justice Mission is a global team comprised of Lawyers, Investigators, Social Workers and Community Activists that protect the poor from violence in the developing world. Everyday IJM is pushing back the advance of everyday violence.
Their Solution:
1. Rescue Victims: Get them out of the place they are in danger.
2. Bring Criminals to Justice: Hold slave owners, traffickers, rapists and criminals accountable in court.
3. Restoring Survivors: Give them the support and tools they need to heal and thrive.
4. Strengthening Justice Systems: Stop violence before it starts by helping strengthen the local justice system.
One of the best parts is they are seeing results!
Over 28,000 people have been rescued from the violence and oppression!
This Holiday Season for every gift certificate purchased at VS Dance Club, a portion of the profits will be given in your honor to those trapped by sex trafficking. We are beyond excited to get to work alongside this great organization for the season, and we encourage to check them out at: www.ijm.ca.
If you are interested in hearing how you can support this organization by purchasing gift certificates, please contact us for more details.
Till next time,